Last year, in the sweltering heat of the summer, the Simulation Football League held their first-ever convention in Dallas, Texas. Commissioner Cameron Irvine, thrilled at the success of the venture, immediately began drawing up plans for the next get together. It would need to be louder. Wilder. There would need to be more lazers. Perhaps the elevation of a simple lunch meat to more than that; a lunch meme. More than anything else, though, the Commissioner (known to friends and family as the Commissioner) knew that the next convention would need a little bit more heat. What hotter place, then, than the city known to all as Hotlanta?
I should make an authors note that I was not present at the last meet-up. Unfortunately, due to time, money, and also money, I was unable to make the trek out to Dallas to meet with my Simulation Football brethren. After hearing the tales of unchecked debauchery and constant food fighting (my favorite form of combat), I vowed I would be at the next convention. Thusly, when it was announced that the weekend of July 26th had been blocked out for a three-day event, I confidently strode into my boss' office and begged permission for the time off. After weeping so hard I stained his carpet (his words; tears only stain the soul) they relented and that was that. Ray Bentley was heading to Atlanta.
FRIDAY, JULY 26
At 6:00am I awoke, groggy and confused, but not any moreso than usual. I quickly brushed my teeth and showered, throwing my clothes into the suitcase like some moron who decided to pack for his weekend vacation at the absolute last minute, before remembering that I needed some of those clothes to wear on the airplane. After kissing my lovely and infinitely-patienced wife goodbye, I made my way through airport security, only getting to second base, before arriving at my gate. A text from the Director of Player Personnel, Andrew Rastelli, confirmed that he had just boarded his plane. Minutes later, I was on mine, and from there it was smooth sailing* to the strange, peach-filled lands of Atlanta
* I am now well aware that the plane flies to Atlanta, and does not sail on the wind, so you can stop making fun of me, Josh.
At approximately 10:30am, the plane touched down. From there, it was a hurried panic to find Andrew and the newly landed Demond Simien, who was at my terminal, but in the complete opposite direction. Hurrying through the maze that is ATL, we finally found each other and made our way to the rent-a-car station, confident that Demond's rental was booked and ready to go. All we had to do was simply wait in line for the next available representative.
TWO HOURS LATER
We are finally led to Demond's car, which has a family of seven loading into it and driving away. Fortunately, the manager had another similar vehicle available, which looking back, I am almost certain was pulled into this universe via sheer force of his will. We three pioneering gentlemen were thankful, though, and piled into the car, speeding out onto the mean streets of Atlanta. The time was 1:15pm. The Hall of Fame banquet was scheduled for 6pm, so we were making good time… or would have been, except the three of us had planned a separate event right before coming to Atlanta; something any upstanding football fan would love to take the time to do. We had tickets to tour the Mercedes-Benz Dome, home of the "professional football team" the Atlanta Falcons!
At 1:00pm.
With our departure from the airport after the scheduled ticket time, we moved through the stages of grief until we arrived at Denial. We had Paid For Those Tickets, we said, and Gosh Darn It, We Were Going to Take the Tour! Plugging the address for the monstrous stadium into the GPS, we steadily made our way there until suddenly, it was upon us like a mountain in the middle of a metropolis.

Demond, whose driving should be commended for not only efficacy but safety and good choice in radio stations, found a parking garage roughly six stories underground, and we were well on our way to the gate, where upon we unleashed our gambit: we begged to get in. The guards were sympathetic to our plight, saying "well you PAID for it," so they let us pass after first making fun of my belt buckle setting off the entire chain of TSA security earlier that day.
Inside the stadium and through the gift shop (take that, Banksy!) we were told that yes, we could get onto the 2 o'clock tour. The three of us were provided bracelets and stadium tags, and were let to roam the immediate grounds before the tour began. Upon approaching the field, three other SFL alumni, from the hosting city of Atlanta itself, were spotted! Mark Chisholm, Boo Chisholm, and BDG Hollewood were all on-site, ready to take the tour with us!
Our guides called the group together and immediately made note that I was wearing my Green Bay jacket and hat. Dea'Mond, one of the guides, specifically told me that it was ok, since we were touring the BEST football team's stadium today, and-
Demond, beside me, shouted "this ain't AT&T!"
From that point forward, I did not receive a single untoward word about my Packers gear from Dea'Mond nor any of the gracious and pleasant staff at Mercedes-Benz, whom I am STILL waiting for a survey from, so that I can give everyone perfect tens or fives or whatever the scale is. We toured the entire building, starting by perilously climbing the escalators to the 200 and then 300 level. At the 300 level you could see the entire city's skyline as well as the sweat flowing down my back from being up so high. We continued through the owners box and then the bowels, eventually entering the Falcons locker room and emerging onto the field.
Never in my life did I expect to be on a professional football field, so I did what I believed any sane man would do in this situation: I asked Dea'Mond if I could try and run the 40 yard dash. He indulged, which led to this fatsterpiece:
Folks! 6.1 seconds. Without stretching! God forbid I think about doing something as simple as stretching, that wouldn't come back to haunt me later, nope, no sirree!
After the excellent tour, Demond (not our tour guide, but our faithful companion through the stadium tour as well as Cowboy fan and target of Dea'Mond's ire) dropped Andrew and I off at our AirBnB, approximately 2 feet from the Atlanta Braves new stadium. Man! Sports! SPORTS! High on life (AND SPORTS), we ventured to where the Hall of Fame banquet and afterparty was being held: Main Event. Imagine, if you would, a garish neon arcade with bowling lanes, lazer tag, gravity ropes, a pizza buffet, and most importantly, rail liquor. Truly a Garden of Delights for the Director and myself to partake in.
Andrew and I arrived well after several other SFLers had, including the Prasad brothers, Shravan and Harish; Duane Schindler and Andy Hamilton, who are NOT brothers their last names are not even the SAME what are you thinking; and more. A room to the side had been set up with a projector and microphone, as well as several round tables with placesettings. People steadily filled the room in as they arrived, but I chose my seat strategically in the back corner. I had brought a special something, as A) the Simulation Football League was fool enough to elect a rat fink like myself to the Hall of Fame, and B) Cameron Irvine specified "church clothes" when talking about Hall speakers. He said no more on the matter. It was thusly when Eddie "Two Scoops" Gauge was talking and calling roughly half the population of Houston dawgs that I was not-so-steathily (see above fat video) changing into my church clothes.
Quick backstory. I love to visit Goodwill. I've found many exquisite artworks, movies, books, etc from the store. I pride myself on the jerseys I find there for extremely cheap (compared to shop prices), but my favorite find so far has been a Murphy's Robes red lined liturgical cleric robe, for priests. Another way to describe this extremely-buttoned getup would be… church clothes.
After the speeches, Cam called us all to the reason we were really there: PURE, UNABASHED BLOODSPORT COMPETITION. It was time to bowl. Other SFL luminaries such as Marcus Dunhill and Colin Northrup; Andy Hamilton scored 69 and the entire bar stopped to wish him a nice. Angel Cline, wife of Skyhawks owner James, emasculated the entire shopping center by scoring over five hundred, I'm pretty sure. I scored fifty five, which as my mom says, is a noble score because I absolutely hit some of the pins. Thanks, mom! After wrecking my upper body as thoroughly as I did the lower, however, the ultimate test sat before us. As the Director put so eloquently: it was time to fight what we believed in. What did we believe in?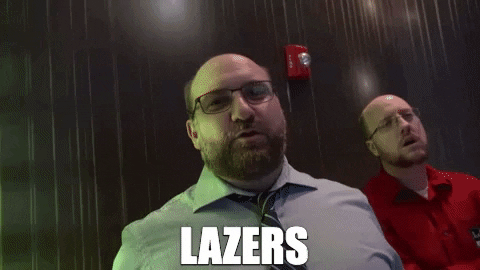 The innards of the lazer tag arena were murky, smog-filled tangle of passageways where people sloughed off traditional relationships and even friendships, trading them in for bloodlust and death-awe. Blue team was pitted against red for fifteen frenzied minutes, with every landing shot disabling the other player for a brief amount of time, as well as filling them with the urge to kill that soon permeated the entire room. Children, adults, it didn't matter. Primal screams were heard throughout, and at one point, a child just straight up punched me in the jaw. Blood and teeth sprayed everywhere. All that mattered was lazers.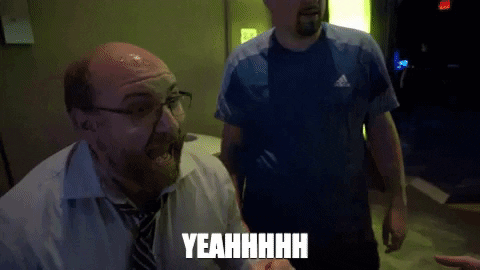 Andrew was confident upon his victory with a score of 2640 upon exiting the game as I slowly adjusted to life with 3 less teeth and a large bruise on my jaw. The Director was soon disappointed to hear that his score was eclipsed easily by a woman who had managed to hack the lazer and obtain 5000 points. As life-giving as it was watching Rastelli's spirit crumble to dust before my very eyes, the entire day of activity had caught up to me, and I demanded a ride home to the AirBnB, needing to rest my child-like self for the gauntlet of activity known as…
SATURDAY, JULY 27
I'm not sure what time it was when I awoke, moist and furious, on a sofa bed made out of metal shavings and angry sticks. After waking Andrew, we travelled over to Cameron's hotel room in an attempt to help out with whatever we could. Inside the now Mobile SFL Headquarters, we did our best to pack up his four monitors, two microphones, fifteen computers, seventy-two different cables, and Andre 3000 (which is another story for another time, my friends). My first action to help out was to just absolutely drop one of the two XBoxes on the floor, because I am a horse's ass. Thirty minutes later, when Andrew had calmed Cam down enough to allow me back into his room, though not enough to where he would look at or speak to me, we loaded the rest of his equipment without incident and were on our way to the day's staging grounds: ROAM Interactive.
ROAM was a cavernous space with approximately no employees inside, which was unsettlingly cool. Our room was a large, rectangular area with two opaque garage doors along one of the long walls; a projector facing the short north and long east walls, and windows overlooking the city skyline of Atlanta to the south. The walls themselves were made of some kind of magical material that allowed us to write vulgar messages in erasable markers. Soon, they were filled with such items as "Your Favorite SFL Memory" or "Saturday's Week 3 Game Slate with Standings and Final Scores" as well as "Shann And Eddie's Football Camp." The computers, monitors, microphones, XBoxes, OutKast member, and wires were all set up in a corner, and seats were placed so that views of both projectors were comfortable. Slowly but surely, the room began to fill up. People from the night before as well as newcomers were ready for some football action, and action is exactly what was delivered.
The first game of the day was this writer's own Mexico City hosting the Vancouver Legion. Their representatives at the convention were, in fact, legion, as they (along with Atlanta and Carolina) had the most with 4, while Mexico City had only myself and Mike Daggs. It was no matter, as my energy levels were that of twelve people, regardless of what action was occuring. Screaming, running, cheek-kissing and threatening to remove my shirt at the prospect of four receiving touchdowns – all this and more, to Andy Hamilton, Gus Schultz, Rich Pratchard and Sudo Nakai's umbrage. At the end of the game, there were handshakes all around and apologies for some of my more intense moments. The four gentlemen from Vancouver were extremely gracious, and it was at that very point that my body demanded food be put into it or else, and so the Director and myself wandered all over creation searching for some kind of sustenance. We settled on a hole-in-the-wall philly steak sub restaurant without any bathrooms, which was simultaneously terrifying and electrifying. Our sandwiches demolished and greasy baskets of fries stared at with futility, we made our way back to ROAM to catch the first victory of the season for the Houston Hyenas. Dawgs Eddie Gauge and Demond Simien's first win was a thorough takedown of the Las Vegas Fury, who had nobody to defend them at the convention from the fierce onslaught of hubris post-game from the two Hyenas.
Charleston hosted Chicago next, and if that wasn't the most thrilling game of the day, I will eat my hat (which, for reference, is made out of tortilla dough), Owners Alan and Shann sat together in the front, well visible on the Fan Cam, and slowly deteriorated into shambling messes by the time the game was called to go to overtime, at which point both had to leave for several packs of cigarettes and drinks. Upon returning, it was Chicago who proved victorious with a field goal, though neither men were able to hold a coherent thought for the next few hours. Unfortunate, as Shann was calling the very next game.
The Atlanta Swarm hosted the St. Louis Gladiators, and, for the first time in league history (ignoring the fact that all games have technically been simmed out of Dallas), the hosting city was playing host not only to the Gladiators, but to the SFL writ large. Undefeated at the time, the Swarm came in swinging, demolishing St. Louis' offense and demoralizing their defense with huge plays from Marcus Dunhill and BDG Hollewood. Therefore, late in the second half when St. Louis found a man open in the endzone, I ran up and screamed for the team, and immediately realized how badly I had stepped in it in regards to the Swarm's feelings. Once again, BDG, if you're reading this, I'm sorry – I wanted to lift EVERYONE up that day, except Vancouver. Sorry not sorry, Andy.
The final game of the day was the long-anticipated birdfight between the Carolina Skyhawks and the Baltimore Vultures. Ultimately, the Vultures would take the victory, but the most important take-away from the matchup came early on, when Skyhawks wide receiver Harish Prasad was injured on a play that saw his MCL erased from existence entirely. In something roughly as ironic as the song, Andy Hamilton had asked Harish and Prasad, both Skyhawks, what they wanted to see from the upcoming game; Shravan said that he believed the better team would win (correct), and Harish begged TJ and T-Pat, Baltimore's owner coach team, to not kill him.
Rest in Spaghetti, Little One
It was after this game that truly the most devastating news of the night was received: the Cheesecake Factory would not be able to accommodate 30 of us until after midnight, and it was barely 9pm. We were hungry. We were antsy. We were… approaching exhaustion not seen since post-lazers the night before. Another ride was called for me, as I… called it a night.
At 2 in the morning Andrew returned to the AirBnB, not at all extremely loud or drunk. Neither of those things. But if it was 2am, then that would mean that it was actually…
SUNDAY JULY 28
The final day was upon us. Once again, after showering and pretending to brush our teeth, we went from our AirBnB to Cam's hotel room to once again help him set up for the watch party, hosted that day in the bistro lounge of the hotel. Andy Hamilton and Marcus Dunhill arrived at roughly noon. Mr. Hamilton had been shooting vlog footage and was in need of a sound effect to cover up curse words; when he announced this out loud, I knew that my time had come. Well, aside from making a Hall of Fame speech on Friday, and winning the game on Saturday as well as Player of the Game. I whipped out my phone, and faster than you can say HAM, had introduced the league to the wonders of HAMHORN, which I expect a royalty check from very soon. Thus was born the gif and sound of me actually saying ham, which can be seen too many times on the Season 13 Convention Vlog.
Moving downstairs, it was a quieter affair than Saturday, as we had less than half our original group size. The bistro offered two areas to watch games, and we quickly had split into groups watching Angus MacClaine's debut with San Francisco against London, and Ashley Jackson's Tulsa Desperado's taking on the Sioux Falls Sparrows. Though neither Angus nor Ashley walked away with the W that day, both games had moments of promise for both teams. Inbetween games, I had two feet of sandwich delivered directly into my belly, and Andrew had approximately fifteen beers delivered to his; by the end of the last two games (Alaska at Tallahassee and New Orleans at Denver) he was pleasantly toasty and I didn't want to think about food ever again.

A group picture and hugs sent the group of now-fast-friends on their separate eating ways, with the Prasad brothers, Andy Hamilton, Andrew Rastelli and myself going to the classiest restaurant in the entire state of Georgia: Hooters. I won't regale you with our tales of the breastaurant, except to say that somebody was drunk enough to mislabel the 911 sauce. It was a mistake they will likely soon never forget.
Soon, it was once again 9:30pm; with my energy drained, I fell into a deep sleep for the first time since before coming to Atlanta as soon as I hit the sofabed; Andrew called for me to let him in maybe 2 seconds afterwards. He's a peach like that.
The next morning we had breakfast at the Atlanta airport before promising revenge on each other and heading to our respective terminals and gates. As I sat waiting for fifteen better classes of passenger than myself to board, thoughts of the entire weekend swirled through my head. The stadium tour, meeting so many SFL luminaries in person, bowling, the death of Harish and birth of the HAM meme. There was no one moment that stood out; instead of there being a diamond in the rough, it was a rough full of diamonds.
To all those who were unable to go, your presence was indeed missed. However, having successfully completed one convention outing, there is no way I will not be present for any and all future gatherings. I highly, HIGHLY recommend to all of you that if there is a way to make the next meet-up, find a way. Beyond a weekend of memories, you'll meet people and forge friendships that truly embody the league's slogan. Honestly, if there was any too long, didn't read summary of the weekend, it would be just that: the Simulation Football League made good on its word, and truly made a remarkable impact in Atlanta from July 26 through the 28th.
Before I completely end the piece, I want to thank everyone who was able to attend the convention, as well as the people working behind the scenes to make it happen. All broadcasters, stats people, and especially the Director of Player Personnel and Cameron Irvine truly, absolutely knocked it out of the park, be it Mercedes-Benz or SunTrust, or even Estadio Azteca. I'm thrilled at the idea of returning next year – and I can't wait to see you all there with me.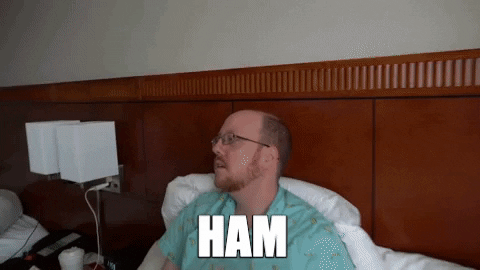 EDIT: In case you wanted to watch the article instead of reading it: S13 Convention Vlog