By Various Writers 
Well, we're nearly there folks. The Top 5 players over the last 3 seasons – as judged by your esteemed Beat Writing Team – are just around the corner, but before we name the chosen few, we've got #10-6 to cover! They may not have cracked the Top 5, but to be named in the high half of this list signifies that you're the elite of the elite. Makexno mistake; the following 5 players did nothing short of dominate the progression era. 
#10 – Mike 'Fats' Johnson, Defensive Tackle, Las Vegas Fury 
6 Foot, 7 Inches – 320 Lbs – 3 seasons – 52 Sacks – 137 Tackles – 93 Tackles for Loss… let those numbers sink in for a minute.
This is the service jacket of the best DT in the SFL: Mike "Fats" Johnson over the past 3 seasons. Forged in the Defensive Lineman factory of Tallahassee in Season 10, "Fats" truly broke the mold when he came off of the assembly line and began his reign of terror over opposing offenses. After his rookie campaign, (42 Tackles, 14 Sacks, 32 TFLs) Mike joined fellow Tallahassee vet Anthony Wyo on a trip across the country to join the expansion Las Vegas Fury. West Coast offenses apparently tasted as delicious as the previous season's East Coast fare, as Mike showed no signs of slowing down in his sophomore season, stacking equal tackle and sack totals from the season before without the benefit of 3 other defensive linemen to draw attention away from him. He was a force of nature – which the Sioux Falls Sparrows experienced first hand in the S11 playoffs as "Fats" went off for 10 tackles, 6 sacks and 11 TFLs in his finest individual performance to date.
LV Fury DT Mike "Fats" Johnson –bullying the offensive line during a game against the Denver Nightwings.
S12 saw "Fats" double teamed on every down, as offenses scrambled to find ways to deal with the behemoth wrecking their blocking schemes. There was a slight downturn in production as he got every team's best shot at tranquilizing his particular brand of destruction, but it was only slightly effective at best; he still posted 31 tackles, 13 sacks and 18 TFLs in his 3rd go-around. The SFL Gods only know how far this DT will go before he hangs up his massive cleats, but we can gauge his impact from the words of those who were there when it happened, like Tallahassee Pride GM Christian Christiansen,
"His individual peaks were some of the highest we've seen from a member of our defensive line."
High praise, indeed – considering the other names on that membership list.
#9 – AJ Francis, Running Back, Tallahassee Pride
Former Mexico City Aztec MLB, Jack Brown: "As far as I'm concerned, he's one of the best HBs in the league. He's done a great job at filling in the hole left in Tallahassee's running game after the retirement of Jaye Eniola. As far as his fit in the pantheon of the SFL, he'll go down most likely as one of the best running backs of this era. He's only in his 3rd season, he can only go up from here."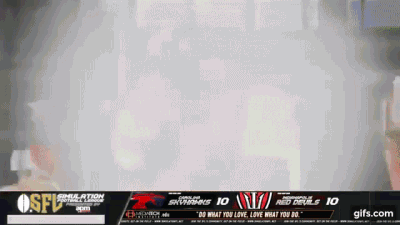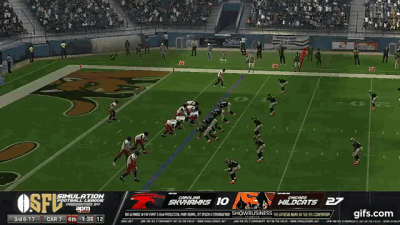 Queen City Corsair DE, Jeff Duffy: "Tough back. Hard to tackle on first hit and if you don't tackle on first hit or miss your opportunity, much like Ash Odom, kiss him goodbye cause he's probably going to break something big.
He is a top 10 player overall and this season I would have to say top 5."
London Knights owner, Sir Liam Crowter: "I'd probably stick him up in the top tier. In Carolina he was probably the franchise player and you could lean more so towards doing that (gameplanning to stop him), but with Tallahassee, he has an ensemble cast so you have to prepare for anything."
#8 – Ken Gossett, Wide Receiver, Tallahassee Pride
It's easy to see why a player deserves a place on this list when the statistics speak for themselves. 5262 yards and 43 touchdowns from 354 regular season catches is what Ken Gossett is talking about, and those numbers speak loudly. #84 has been the Pride's main man on the outside for 4 seasons now, battling against the league's top corners week in week out, more than often coming out on top (a huge reason why the Pride have seen the playoffs so regularly). Showing magic hands and an uncanny ability to steal space in the secondary, Gossett has reached double digits in touchdowns since Season 10, including a whopping 24, 2 seasons ago. He's not the highest receiver on this list, but he fully deserves his place among the SFL's elite.
Tallahassee Quarterback Christian Christiansen waxing lyrical about his teammate:
"Ken Gossett is the best and most complete WR in the league. He's a mismatch with every defensive back in the league and since putting together the single most dominant performance by a receiver in league history in Season 10, he has been the same oustanding threat, while operating within the confines of the offense."
Dallas Lobos Owner Crash Combs had this to say:
"Gossett is one of those guys who sometimes gets lost on the talk of top WR. He never should. I know personally by getting "mossed" my fair share by Ken and watching him dance to the end zone. A somewhat underrated, great player".
#7 – Junior Senior III, Wide Receiver, Dallas Lobos
"JS3 has been a huge pick up for us since day one. He's been one of the top receiver each season he has played and continues to get better. He has also expanded to helping the team off the field in multiple ways."
-Crash Combs
Junior Senior III has been one of the most prolific names to come out of the S11 rookie class. He blazed through almost anyone he was lined up against in his rookie season and carried on the upward trend this season. JS3 looks to be one of the top 5 WRs of S13 and potentially could turn into Hall of Fame talent. The sky is the limit for this young wideout.
#6 – Max Jackson, Strong Safety, Las Vegas Fury
It's not easy playing strong safety. Often times in the sport of American Football, the safety position is the last line of defense. If a receiver is to catch a deep pass for a touchdown, then the free or strong safety is usually the guy who has to defend against the receiver. However, the strong safety is also allowed to stop running backs. Well, in the SFL, look no further than Mr. Max Jackson. He is Las Vegas's Ed Reed. His phenomenal play on the field as well as his leadership and his attention to detail is the reason Las Vegas stays competitive.
Quote from Merrick Itera, teammate of Max's:
"I think he's been the most dominant SS in the league since the day he was signed. He had mad INTs and tackles his rookie year, made the inaugural SFL Pro Bowl, Next season he had like 7 TDs on KR/PR and also was killing people on the field, and this season he was back up there at the top of the list in multiple categories, making his 3rd Straight Pro Bowl… He's the quintessential Strong Safety, and a helluva coach as well."
Merrick was asked if Max's phenomenal play on the field and leadership is a catalyst for making the postseaso. This is what he had to say:
"Absolutely. He's a tireless worker who is always trying to find any edge to improve the odds of us winning. he's active in the locker room and in gameday chat, as well as in the general chat. He makes it easy to recruit, easy to retain and easy to plan for the next season."
Anthony Wyo, former safety partner of Jackson:
"He's a great player. He has a nose for the ball and always seems to be around it, whether he's catching interceptions or stopping ball carriers behind the line of scrimmage. He's an even better teammate though. He never has a bad thing to say about anyone, and he's always supportive of every player on the team. He was especially supportive of me. I'm going to miss playing with him. The next person to fill that FS spot on Vegas couldn't ask for a better guy to suit up with in the secondary than Max Jackson."
Quote from Christopher Colon, Defensive Tackle and GM of the Carolina Skyhawks:
"Max Jackson is simply the best Strong Safety in the SFL. He plays the field so well. He snags interceptions seemingly out of nowhere. He is a fantastic return man as well. What I love about him most re is how he isn't afraid to come in the box and be a force in the run game from the Strong Safety position. It's guys like him that push me to be the best at my position."
Max Jackson, Strong Safety and Owner of the Las Vegas Fury:
"Glad to see that I've made a impact to be recognized and hope to continue season to season. Hall of Fame here I come!".
Next time, we breach the Top 5. The best players this league has produced over the last 3 seasons, as voted by us, the Beat Writers. I can't wait…