By Various Writers
Last time around, we looked at the players who didn't quite make the cut when the 'Top 20' selection committee decided on their final list, after much hours of heated discussion. Today, we bring you some that made it. The first five in our list, counting down from 20. Can I just preface this article by saying that choosing the order of our Top 20 was no easy task. The minute differences between these elite players means that they are almost impossible to separate. However, we are extremely happy with our list and wait with baited breath for the passionate discussion we hope to promote. Let's start by introducing one of the 'big guys' on offense. 
20) Tristan Carr, Tight End, Dallas Lobos
"A Tight End in the 'SFL Top 20'?! How does that even happen?"
While I would agree that at 6'7", 249 lbs it might be surprising to the average SFL novice that a tight end (that's only been in the league 3 years) has found his way onto the Top 20, the veterans and coaches that have had to line up next to or across the line of scrimmage from Tristan "Trash" Carr would beg to differ. A look at his rookie stat line would back up the novice's disbelief, with Tristan accounting for 14 REC, 316 YDS, 1 TD in total during his puzzling rookie campaign. However, there were signs that – if put in the right scheme – he'd be a challenging matchup and certain play-callers took notice. Legion owner Andy Hamilton summed up the impact his rookie had on his team when asked for a comment;
"Tristan is an incredible player and member of the SFL Community. I lucked into having him on my team. I knew he would be a guy who could contribute and he's shown since that signing that he can go above and beyond what is expected of him. On the field he's a threat. He might not make every play, but the defense always has to be aware about the tall threat to catch any football. A great user and a great player, what more could the SFL want out of a guy?"
After his rookie year with the Vancouver Legion, Tristan chose to continue his career within jolly ol' England, and it was the best decision of his career. The Knights offense was tailor-made to take advantage of the miss-matches Carr creates for a secondary, and they fully exploited those opportunities all year-long, culminating in a season stat line of 110 REC, 1152 YDS and 5 TD's. Yes, you read that right: his stats essentially QUADRUPLED during his sophomore season!
Matthew Slinn, co-owner of the London Knights and someone who was extremely keen to get Carr to play in London had this to say;
"During my stint as GM of the London Knights, I'd place Tristan Carr as one of my top 3 best signings, regarding production and activity off and on the field. Tristan is an invaluable locker room presence, oozing positivity in what was a tough season for us. His production on the field mirrored this. He is a match up nightmare and in my opinion, has taken up the mantle as the best tight end in the league."
However, London began the implementation of a different vision for their team in the off-season, and Tristan found his way to a team that learned the lessons from VAN and LON and have put him in a position in which he's flourishing so far this season. As of Week 10, he's got 43 REC, 697 YDS and 7 TD's. The Lobos of Dallas are taking the next step to unlock this offensive weapon they currently have possession of – distributing to Tristan less often but going to him when it counts and hitting pay-dirt when they do.
19) Aaron Lee, Safety, Atlanta Swarm
To truly demonstrate why Aaron Lee deserves a place on this list, we interviewed three extremely highly respected members of the community to ask their thoughts about the safety as a player.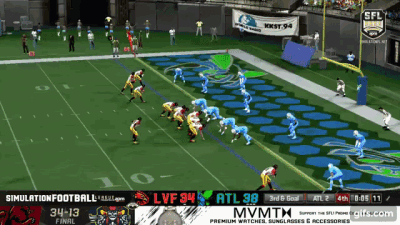 Lee with a crucial late game goalline stop on Fury halfback Redford.
Queen City Corsair wide receiver Chris Curtis: "He's in the top 5. Lee is a nightmare. He isn't necessarily flashy all the time but he's defensively responsible."
New Orleans Pharaoh quarterback Xander Gold: "Lee's a great run stopper. Simply put, he's a menace for any offense to go up against."
Tallahassee Pride wide receiver Kenny Gee: "He's one of the better (safeties) in the league. Lee's definitely been someone I've needed you keep an eye out for when we play Atlanta."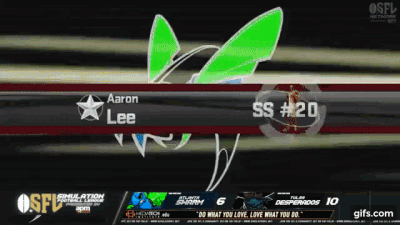 Lee baiting Desperados quarterback Martin into an interception.
We also caught the thoughts of the man himself;
"I'm honored to be in the Top 20 with some of the greatest players in the SFL. I have been here for 5 seasons and have had my struggles for sure in the SFL and in my life outside of the league! I guess my most memorable play was when I got my first INT in Season 11! Even though I played for the Crabs in Seasons 8 and 9, I have really enjoyed my time in Atlanta. I couldn't do what I do if it wasn't for my great coaches and teammates!"
18) Slinn Shady, Linebacker, London Knights
A consistent force in the defensive front seven for London, Slinn Shady has a knack for finding himself in the right spot at the right time to make the tackles, and as a result, he's been a constant figure in the league leaders for total tackles. Slinn made a name for himself early on in Season 10, with several impressive monster hits, including one on this very writer in an early-season loss. Quickly rising in on-and-off the field stature since his debut, Slinn now boasts an impressive defensive resume as well as co-ownership of the team that made him a breakout star. While he's a pleasure off the field and in the discord, woe be to any offensive player matched up against this front seven powerhouse.
"I've been here for close to two seasons now, Slinn has been a leader both on and off the field. The way he carries himself in practice really resonates with the team. Slinn really takes rookies and shows them the ropes. I knew when I was drafted I had huge shoes to fill with Vasquez leaving to go to Dallas, Slinn told me to just be myself and play loose. It did not translate to the naked eye last year, but this year my play has been on a different world, and that credit is to Slinn. He's definitely a coach out there on game days and knows exactly what the offense is going to run." – Jeff Meinyshyn, General Manager, London Knights
"He's shown that he's a true leader on and off the field. His work on the field speaks for itself. He's probably the most complete linebacker in the league, at least in my mind, whether you line him up outside or inside. Drop him back into coverage or send him on a blitz. He can do it all." – Liam Crowter, Owner, London Knights
"He is a really good player – tackling machine, always on every play, very quick for his size, great secure tackler, big hitter. Safe to say, it's never fun having to gameplan around someone like Slinn." – Ramos Lynn, Owner, Mexico City Aztecs
17) Deezer Powell, Wide Receiver, New Orleans Pharaohs
Deezer Powell has become the prime example for how a change of scenery can move galaxies for a player. Powell has hands down been the best receiver in the SFL in a really, really crowded pool of WRs having awesome seasons (including, but not limited to, prolific Dallas Lobos WR Junior Senior III and the vertical air raid weapon over in Atlanta in Siege Falco). He matched his previous single-season career highs in just eight games with the New Orleans Pharaohs. His Duke Wilson-like electric and vertical play has been the final piece to elevating a New Orleans Pharaohs team headlined by MVP-candidate QB Xander Gold to being the closest thing we've seen to the Season 10 Tallahassee Pride. Powell is an undeniable talent who has a very bright future in the Big Easy.
Rival WR Siege Falco on Deezer Powell:
"Powell has definitely been putting in those extra hours in at the weight room. He's currently the best WR in the league in stats. His coach and team being consistent at targeting Powell and Wolfe making them one of the most dangerous WR 1, 2 combo punch. Definitely have to respect them when they're on that field. For any young rookie looking for a player to look up to, he's one of the greats. Seeing him just destroying defenses left and right really inspires me to get back in that film room and dissect every bit of those plays. Much respect to the Pharaohs."
16) Jack Brown, Linebacker, Mexico City Aztecs
When you are talking 'Top 20', you have to take many variables into consideration. A player like Jack Brown always seems to be all over the field, always making the right plays when it's needed. Coming up big in the clutch bringing down ball carriers, swatting down balls, getting into the backfield bringing down the RB. For the debut of the Top 20 he is rated #16. Next season he could be a bit higher. One thing is for certain. He's just about standing atop the hill of linebackers in the SFL and doesn't look like relinquishing that title any time soon.
"Well, from my experience playing against him, for some odd reason he always is in the right place.. all over the field and is a tackling machine. I'd also go as far as to say he's underrated" – Free Safety, Sir Chappell
"As a player, he's really good. I think one of the best LB's in the league"– Tight end, Shann Varner
"What else is there that needs to be said about Jack Brown? With his outsize on-and-off the field presence, his ability to stop a play dead in its tracks is second-to-none in Mexico City. Brought on halfway through Season 9 as part of the vaunted "Wall" defense, then becoming part of an all-timer tackling duo with Landin Mack, and now blazing a path all his own, Jack's consistently making plays and enemies with every big hit he delivers. He jokes about slapping sense into his teammates, but honestly, I'm incredibly lucky to have him on my squad – its bad enough having to face down Slinn Shady as a running back; I couldn't imagine having to compete against Jack. And that's a fact. I agree that he deserves recognition, but as far as slotting someone into specific numbers, I leave to the history books to do." – Running back, Ray Bentley
There you have it folks, the first steps into our SFL Top 20. Come back very soon to catch who else didn't quite make it into the top 10. Until next time…